Sam and Kate Carey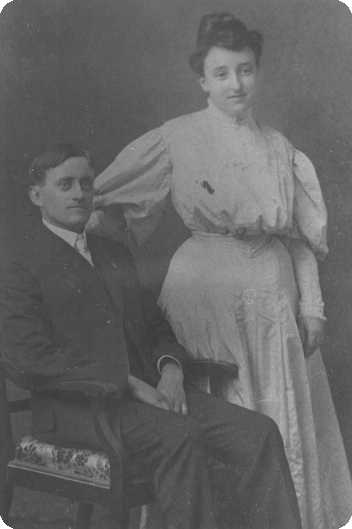 My Carey grandparents came to Santa Monica, CA, in 1921 from Urbana, OH. They lived for a time at 1838 11th Street, where they were enumerated in the 1930 census, and eventually moved to 1918 12th Street, where I remember visiting Grandpa often as a little boy. I have no memory of my grandmother, Kathryn (Plank) Carey, who was killed by a hit-and-run driver down the street, at the corner of 12th St. and Pico Blvd., in 1939. I was only two years old at the time. Grandpa, Samuel Winans Carey, had owned his own greenhouse and florist business in Urbana. After moving to California, he worked at the Armacost Nursery at Olympic and Bundy in West Los Angeles. In the 1940 census, he was listed as a night watchman at a greenhouse, but he probably retired soon afterward, and was always there whenever we went to visit him. He collected stamps, or at least accumulated them, and liked to give me his duplicates.
Grandpa was born 14 Jul 1879 in Urbana, Champaign county, Ohio, the son of David Clark and Sarah Jane (Perry) Carey. He was the youngest of David and Sarah's six children who survived to adulthood. As a child and young man, he lived on Bloomfield Avenue in Urbana. He worked as a gardener and owned a greenhouse next to his home.
Grandma was born 21 Jan 1882 in West Liberty, just across the line in Logan county, the daughter of Samuel and Elizabeth (Wilhelm) Plank. Her father died when Kate was nine years old, and her mother married a widower, David D. Yoder, three years later. Grandma's whereabouts during her teen years are something of a mystery to me. When Emma Kenaga visited Logan county during the winter of 1896-1897, she kept a diary in which she mentioned Kate's stepfather several times. But there's no mention in it of Kate or of her mother, Elizabeth. In the 1900 census, although Elizabeth and David were enumerated together in West Liberty, I've been unable to locate Kate. I thought I might find her living with her sister Amanda Lakin and her growing family in Champaign county, but she isn't listed in that household either.
Grandma liked to play the piano and worked as pianist for awhile in Urbana's movie house during silent film days. My dad absorbed some of her interest in the piano and could read music and play several tunes by ear. Grandma's family background was German and according to Dad, she could speak some German, even though she was about four generations away from her ancestors' homeland.
Marriage. Sam Carey and Kate Plank were married 25 Mar 1906 in Dayton, which is in Montgomery county, then settled in Urbana. I'm not sure just how they came together or why they went to Dayton to get married. Kate's grandparents lived in Dayton for awhile before Kate's birth, so there may have been some family connection there. Also, Kate's mother may have lived in Urbana during her childhood. My Aunt Libby told me that Elizabeth had gone to school there with Grandpa's aunt Cindy Perry. The picture of Sam and Kate above could have been taken about the time of their marriage. It is part of a treasure trove of family pictures sent to me by my cousin, Kate Machler.
Children. Sam and Kate Carey had the following children, all born in Urbana, Ohio:
David Howard Carey, my father, who was known by his middle name in his early years, born 10 Jan 1907, died 24 Dec 1984 in Los Angeles.
Claude William Carey, born 15 Feb 1909, died 21 Nov 1979 in Santa Monica.
Sarah Elizabeth "Libby" Carey, born 26 May 1912, died 6 Jun 2009 in Molalla, OR.
Mae Carey, who was always known as Goldie, born 22 Mar 1916, died 26 Feb 1991 in El Toro, CA.
Walter Johnson Carey, born 14 Sep 1917, died 24 Sep 1917 in Urbana.
Walter's twin brother, who was stillborn.
The following biography is from page 388 of Middleton's Champaign County Ohio History, published in 1917. Like many of the articles which appear in such publications, it is valuable for the amount of information it gives on the immediate family of its subject.
SAMUEL W. CAREY, one of Urbana's progressive and enterprising florists, is a native son of this county and has lived here all his life. He was born on July 14, 1879, son of David and Sarah J. (Perry) Carey, the former of whom was born in this state and the latter in Pennsylvania and the former of whom is still living at Urbana at a ripe old age.

David Carey was born in Defiance, this state, but when he was a child his parents moved to Piqua, where he received his schooling and where he grew to manhood. While living in Miami county he married Sarah J. Perry, who was born in Franklin county, Pennsylvania, and who was but four years of age when she came to this state with her parents, the family first locating at Gallipolis and later moving to Piqua, where she was living at the time of her marriage. Shortly after his marriage David Carey came to Champaign county and became engaged in farming at Lippincott Station, later moving down in the Dugan Valley section, where for thirty years he was engaged in farming. He then moved to Urbana, where he is still living, one of the oldest and best-known residents of that city. During his residence on the farm Mr. Carey was quite extensively engaged in the raising of broom corn and after moving to Urbana became connected with the Urbana Broom Company and was thus connected until his retirement from business some years ago. To him and his wife seven children were born, of whom six are still living, those besides the subject of this sketch being William N., George E., Charles J., Mary and Hattie.

S. W. Carey received his schooling in the schools of Urbana and at the age of fourteen years began working in the greenhouse of the Reeser Floral Company, with which he was connected for about eight years, during which time he thoroughly familiarized himself with the details of the florist business and at the end of which time he started a greenhouse of his own and has since continued in that business, gradually building up his plant to its present extensive proportions, and has long been recognized as one of the leading florists in this part of the state. Upon starting in business for himself Mr. Carey erected two greenhouses, seventy feet in length, carrying about two thousand square feet of glass; and this has been enlarged as the growing demands of his trade warranted until he now has seven greenhouses, one hundred and forty feet in length, carrying about fifteen thousand square feet of glass. His extensive plant is well equipped and up-to-date and his floral products cover a wide variety, suitable to all demands requisite to the needs of this section. Mr. Carey is a Democrat and gives a good citizen's attention to local political affairs, but has not been a seeker after public office.

In 1906 S. W. Carey was united in marriage to Catherine A. Plank, daughter of Samuel and Elizabeth Plank, and to this union four children have been born, Howard, Claude, Sarah E. and Goldie. Mr. and Mrs. Carey are members of the Lutheran church and take a proper interest in church work, as well as in the general social activities of their home town. Mr. Carey is a Royal Arch Mason, a member of the blue lodge, the chapter and the council at Urbana, and takes a warm interest in Masonic affairs. In the conduct of his business he is energetic and enterprising and is accounted one of the public-spirited business men of Urbana.
Grandpa registered for the draft during World War I. Registration began during 1917, shortly after the United Stares declared war, but he was too old at that time to be required to register. But a final registration, held 12 Sep 1918, required all men aged 18 through 45 to sign up with their local draft board. Sam's registration card indicates he was living at 203 Bloomfield Street and was working as a florist at that time.
Grandfather was a member of the Ocean Park Masonic Lodge, which my father also joined in the late 1940s. He never learned to drive, so he usually walked more than a mile to regular Tuesday night lodge meetings until he was in his 70s.
Grandmother's obituary appeared in the 23 Oct 1939 issue of the Santa Monica Evening Outlook:
Katherine Carey

Mrs. Katherine Carey, 57, died Saturday [21 Oct] in a Santa Monica hospital from injuries suffered in a traffic accident the previous night. She resided at 1918 12th Street.

Mrs. Carey had lived in Santa Monica for 18 years. She leaves her widower, Samuel W. Carey; two sons and two daughters, David Carey, Los Angeles; Claude Carey, Santa Monica; Mrs. Sarah E. Bowers, Los Angeles, and Miss Goldie Mae Carey, Santa Monica.

Funeral services will be held at 2:30 p.m. tomorrow, in the Little Chapel of the Dawn, with Gates, Kingsley & Gates directing and Dr. A. Ray Moore, minister of the First Methodist Church, officiating. Cremation will follow.
The Los Angeles Times also took note of grandmother's death, in its 22 Oct issue, but only because it ran a regular column itemizing the toll of fatal traffic accidents in Los Angeles County:
HIT-RUN VICTIM

Struck by a hit-and-run driver while crossing Pico Blvd. at 12th St. in Santa Monica, Katherine Carey, 60, of 1918 12th St., received internal injuries which caused her death an hour later at Santa Monica Receiving Hospital. Police later arrested Carl McCormack, 30, of 1548 Third St., Santa Monica, on suspicion of hit-and-run driving.
During the late '50s, grandfather became increasingly hard of hearing and also lost much of his vision. He received an Old Age Assistance pension, thanks to help he received from a a welfare rights organization. He moved into a nursing home in Gardena, California, near Libby's home, where he died 7 July 1959. He was cremated. His ashes and Kate's are in adjacent urns at Woodlawn cemetery in Santa Monica. The following obituary appeared 15 July in the Urbana Daily Citizen:
Samuel W. Carey

Word has been received by Urbana relatives of the death of Samuel W. Carey in Gardenia [sic], Calif., who died in his sleep early in the morning of July 7, just one week before his 80th birthday.

At one time Carey conducted a flower garden on Bloomfield Ave. in Urbana. After selling his business here, he, with his family, moved to Santa Monica, Calif., where he worked as a florist until his retirement. After his retirement he made a number of trips back to Ohio and Michigan to visit relatives and friends.

Included among his survivors are two sons, David Howard Carey and Claude Carey, and two daughters, Mrs. Goldie Mae Girich,1 and Sara Elizabeth Carey,1 all of California; a nephew, the Rev. Kenneth Carey of Urbana, and a niece, Mrs. Essie Powell, also of Urbana.

Funeral services were conducted for him in "The Little Chapel of the Dawn," at 3 p.m. July 9, in Santa Monica, with the Rev. Robert Kersey2 officiating. Burial was in Santa Monica.
---
Here are two of Sam and Kate's descendants who were born during 2002: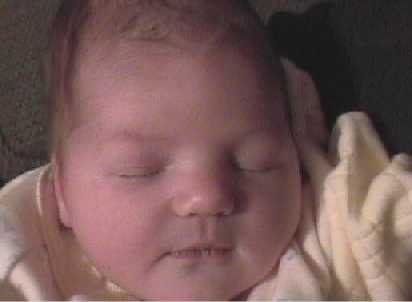 Elizabeth Grace McKenna, born 16 Mar 2002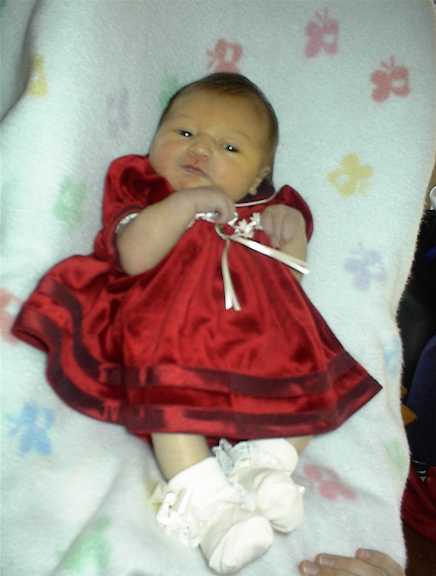 Rebecca Elizabeth Carey, born 22 Nov 2002
---
1
Aunt Goldie was married to
Larry Gairich
and Aunt Libby to
Earl Bowers
.
2
Rev. Kersey was the minister of the
church
to which my parents belonged.
This page was last updated 5 Feb 2017.