John Winans
and his descendants
My 7-g-grandfather, John Winans, was a well-known early settler of New Jersey, who arrived just before the end of Dutch rule. He has numerous identifiable descendants living in the United States, thanks to having at least five sons who survived to adulthood, each of whom went on to have many sons. (Male lines are always easier to trace than female lines!) We have several family members who can trace their own lineage back to John through different paths. We will continue to add material here on many different Winans families as fast as we can gather it together.
Much of what we know about John and his wife, Susannah Melyn, is the result of the labors of one of their descendants. Major Ira Winans (1839-1931) devoted much of his life to researching the history of the Winans family in North America. As a part of his research, he corresponded with hundreds of Winans descendants, including my own grandfather, Samuel Winans Carey. He died without having finished the project. Ira Winans' heirs donated his papers to the Rochester, NY, Public Library, where some of them were photocopied in 1945 by Col. Warren E. Carey, and where the papers are still available to the public.1
The article which follows was probably meant to be the first page of Major Ira's history. He had it printed and sent it out to several fellow researchers. Where information in it was handwritten, it will be indicated by brackets: [thus].
Winans Family In America

Descendants of John Winans

JOHN WINANS (b. about 1640, d. December 1694, at Elizabethtown, N.J.) was Dutch, a prominent man among the "80 Associates", who founded and settled Elizabethtown, N.J., 1664-5, was well educated, had books (inventory) when books were rare, had Gold and Silver Plate and Coat of Arms. He married (1) [Aug 26,] 1664, at New Haven, Conn., Susannah Melyn (bap. June 14th, 1643, in the Dutch Church, New Amsterdam, d. between 1688-1692, at Elizabethtown, N.J.) daughter of Cornelis and Janetje Melyn.

Cornelis Melyn was Patroon of Staten Island, 1639-1659, also a resident, at times, of New Amsterdam, and after 1659 of New Haven, Conn. About 1656 his residence was at what is now the corner of Broad and Stone streets, New York, and earlier, in that vicinity. In 1646 he cultivated the site of Trinity Church, Broadway, New York. For an interesting account of this notable pioneer, see Innes' "New Amsterdam And Its People," Scribners, New York, 1902, in which a chapter and appendix are devoted to him.

John and Susannah (Melyn) Winans' children were:

John, b. [1st July] 1665, d. bef. 1673;
Susannah, b. [Feb. 6] 1667, m'd, 1688, Hendrick, son of Jacob and Margaret (Stuyvesant) Backer;
Elizabeth, 1669-1739, m'd Captain Ebenezer Lyon;
Samuel, 1671-1747, m'd Zerviah ....;
John, 1673-1734, m'd

Remember ....;2
Mrs. Frances (Moore) Doddridge, widow of Philip;

Joanna, b. bet. 1675-8, nothing further known;
Conrad,3 b. about 1680, d. Feb. 1727-8, m'd Sarah, daughter of James and Sarah (Denham) Palmer, granddaughter of Rev. Thomas Denham, of Rye, N.Y. (see Baird's "Rye"). Two of Conrad's sons, James, b. 1715, d. Apr. 4, 1795, m'd Sarah Reynolds, b. about 1716, d. Oct. 10, 1802, and William, b. 1727-8, went to Greenwich, Conn., and later to Dutchess Co., N.Y., are ancestors of New York State Winans;
Jacob, 1682-1722, m'd Mary ....;
Isaac, b. 1684, d. 1723, m'd Hannah .... (ancestor of Ross Winans, of Baltimore, b. 1796, in Sussex Co., N.J.)

John, m'd (2) about 1693, Ann Robertson, daughter of Wm. Robertson, a notable physician and large landholder. Their son,

William, 1694-1763, m'd Hannah ....; he was the grandfather, by one daughter, of the wife of Colonel Edward Thomas, by the other, of Dr. William Winants, surgeon of the Revolution.

A numerous descent from all is traced.
For comparison, we've made available the first few pages of Orin Clifford Winans' and Alice (Winans) (Egy) Woolley's books, which contain slightly differing biographies of John Winans.
History of Elizabeth, New Jersey4, pp 56-58, mentions John Winans as one of the "80 associates" who met at Elizabeth Town on February 19, 1665-6 whose names were recorded in the Town Book. The Book was lost, in 1718, but some extracts survived. The following is taken from pg 101 of this history:
JOHN WINANS (WYNES, WAYNES, WINONS, WINNONS, WYNONS, WYNENS, WYNANS, WYNNINGS) was doubtless of the company that came from the East End of Long Island. It is quite likely that he was of the same family with Barnabas Wines, their names being frequently spelt alike. He was bred a weaver -- a handicraft in great request at that early day. He had a house-lot, containing 5 acres, 10 by 5 chains, bounded, N., by Jacob Melyen;5 W., by Humphrey Spinage; and, S., and E., by highways. He had, also, 16 acres of upland, "on the Neck", between Matthias Hatfield and Samuel Marsh, Senr; also, 120 acres of upland, "on Peach Garden Brook", bounded by Robert Morse, Matthias Hatfield, Robert White, and unsurveyed land; also, 40 acres of land, on "the S. branch of Elizabeth Creek or River", bounded by Humphrey Spinage, Matthias Hatfield, and the plain; also, 4 acres of meadow, "at Rawack", and 6 acres on Elizabeth Creek; in all 200 acres. When his next neighbor, Jacob Melyen, had removed to New York, Winans bought, Feb. 8, 1677-8, his house-lot, house, barn, orchard, &c. He died at the close of 1694. His estate was valued at £271.15.8.
There are other references throughout the book to John Winans. There are also mentions of such familiar family names as Melyn (usually spelled Melyen), Marsh, Frazee, Woodruff, Clark, Clawson, Scudder, Hatfield (also spelled Heathfield or Hetfield), etc. (I need to do more research here.)
John Winans is believed to be buried in the First Presbyterian Church cemetery, in Elizabeth. His grave can't be located, and O. C. Winans speculates in his book that it was covered up during the expansion of the church. The grave markers of several of his children and other descendants there are still legible nearly three centuries later, though. Our cousin Glen Winans took several photos of these tombstones which we've assembled into a Winans photo album.
Many members of the Winans family and other closely-related families migrated from New Jersey to Ohio's Miami valley, then on to Indiana or Illinois. Others, such as Major Ira's line, moved to upstate New York, others to Connecticut or Maryland, others were among the first 49ers in the California gold rush, while still others remained in New Jersey. John Winans' descendants, like Abraham's, seem to be as numerous as "the stars of the heavens, and the sand upon the seashore..." (Genesis 22:17)
---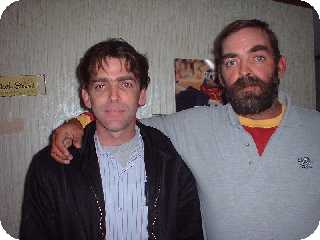 One of the joys of researching our family history is that of discovering and getting to know distant relatives who share some of our heritage and who sometimes even look like us. I recently discovered a Winans family history site on the World Wide Web and got in touch with the man who put it together - Charles Wanless, who is an 8th-great-grandson of John Winans. There's a lot of information there on the earliest Winans settlers as well as on Chuck's own line. Check it out! In this photo of him with his older brother Dave, you can see that Chuck is also a tall, good-looking bearded guy. He is the administrator of Rootsweb's Winans mailing list. If you would like to have your name added to the list so you can exchange information with your Winans cousins, send e-mail to WINANS-L-request@rootsweb.com with the word "subscribe" in the body of the message. We'll add information here about any other Winans pages which we might come across.
---
1
In 1989, our niece
Kathy (Gerds) Wright
moved to Rochester, New York. At my request, she visited the Rochester Public Library to check on the current status of the Winans papers. She reported that there are still five boxes of data in the library's custody and that nothing has ever been published. Anybody who wishes to look at the Winans papers may do so by giving the library a day or two's notice. Among the Winans materials are the following:
Alphabetized list of all Winans descendants,
List of all people who have corresponded with, or visited, the library who were interested in the Winans papers,
Folders containing Family History data sheets,
Major Winans' correspondence in its original envelopes, and
Notebooks, clippings, tombstone photos, etc.
2
I've heard from several researchers that Remember's maiden name was
Baldwin
.
3
Conrad was my 6th-great-grandfather.
4
By Rev. Edwin Francis Hatfield, D.D., published by Carlton & Lanahan, New York, in 1968. It is available at Los Angeles Public Library under catalog number GenR 974.92 E43Ha.
5
Possibly John Winans' brother-in-law.
Last updated 23 Jan 2016.